 "Nail it with the perfect 5 year anniversary gift – a beautiful, personalized wooden sign."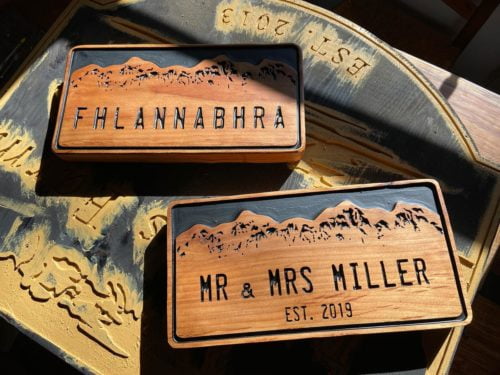 Wood Anniversary Gifts
The traditional 5 year anniversary gift for married couples is wood. So you've made it to your five year anniversary, congratulations! Anniversaries are such an amazing time full of laughs, food, and of course, gifts. It's easy to get lost when it comes to finding the perfect gift for your significant other. Then add the pressure of that perfect gift being the perfect anniversary gift! But buying the perfect gift shouldn't be stressful or confusing. Lucky for you and me, the traditional five year anniversary gift is WOOD! Your partner is going to love a handcrafted wooden sign!
We design hand-crafted custom wood signs made out of the highest quality wood species, providing you with a unique and personalized wooden 5 year anniversary gift for your loved one.
Whatever design you have in mind, we can make it come to life. We have no design fees and provide you with 3D mockups before we get started on the project, ensuring that you are in full control of the creative process and the finished product is one you are satisfied with.
If you'd like to give a loved one the gift of having their own wood sign idea created, we offer unique gift cards as well.
WHAT IS THE TRADITIONAL GIFT FOR A 5-YEAR ANNIVERSARY?
Traditionally couples buy each other wooden gifts for their five year anniversary. This is done to symbolize the strength and durability of their relationship. You're buying a gift that symbolizes that your love for one another can't be broken and will last forever. The good thing about wooden gifts is that you have plenty of options.
WHAT DO I GET MY HUSBAND FOR OUR 5TH ANNIVERSARY?
This anniversary gift can be something as simple as a small wooden figure for your office, a sign to hang in his personal bar, or something to place over the shop outback. You can get a wooden sign with your vowels or something created around an inside joke. Whatever you choose, you're investing in something that you can continue to look at over the years and even pass down to your children.
WHAT DO I GET MY WIFE FOR OUR 5TH ANNIVERSARY?
You can get a wooden sign done with the lyrics to the first song that you and your wife danced to at your wedding. Or maybe a sign with the moon phase that occurred on your wedding day or perhaps something that marks the date of your wedding night or the birth of your child.  
5 YEAR ANNIVERSARY GIFTS FOR HIM & HER
Below are just a few examples of custom wooden 5 year anniversary gifts you can get for your partner. And don't worry if you can't think of the perfect sign idea right now – you can always give them the most unique gift card they'll ever get!
So let's start looking at some great ideas to help you pick the perfect 5 year anniversary gift!
This is a great example of a custom bar sign: something that can tie together the whole bar and add a great focal point. Does your partner have a prized bourbon? Why not display it to all who come over?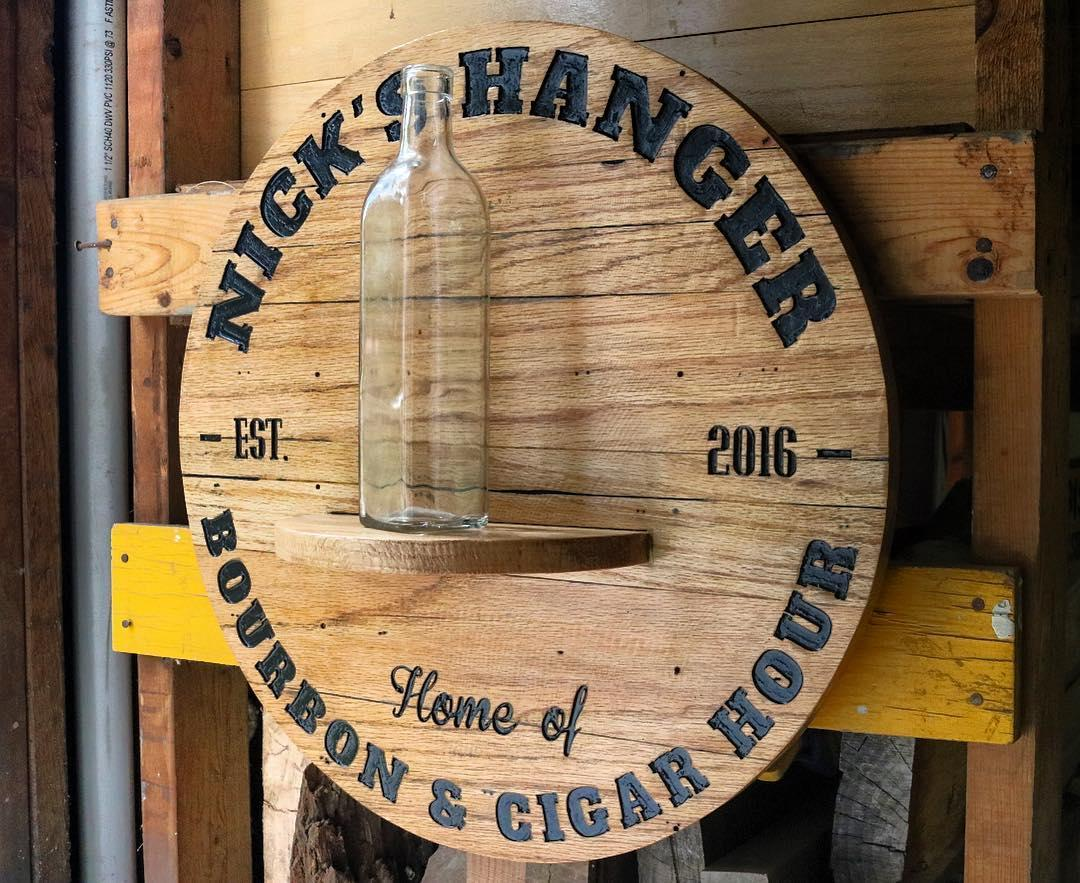 Got A Workshop?
Why not have something hang over your significant other's workshop? Something they will see each and every day they walk into their shop?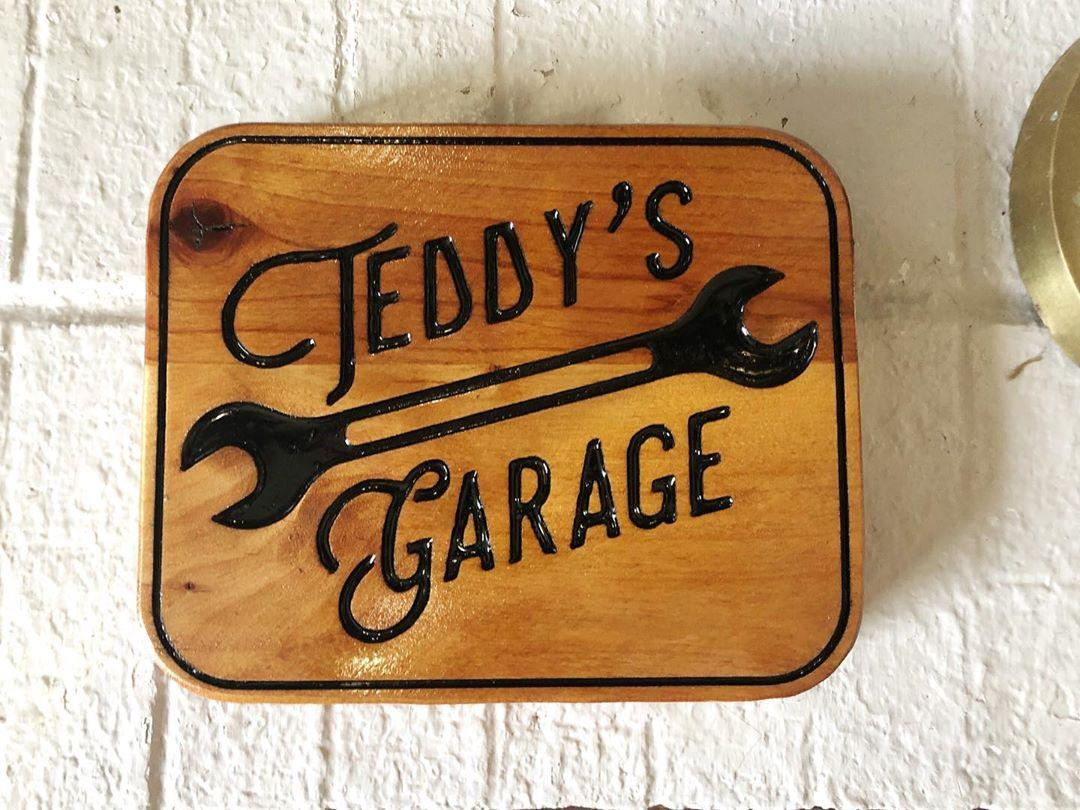 Do You Have A She Shed?
Does your wife have her own outdoor space or a certain room in the house that's her own space? Getting a custom sign would be the perfect addition to said space. Something that will always make them smile when they enter their space.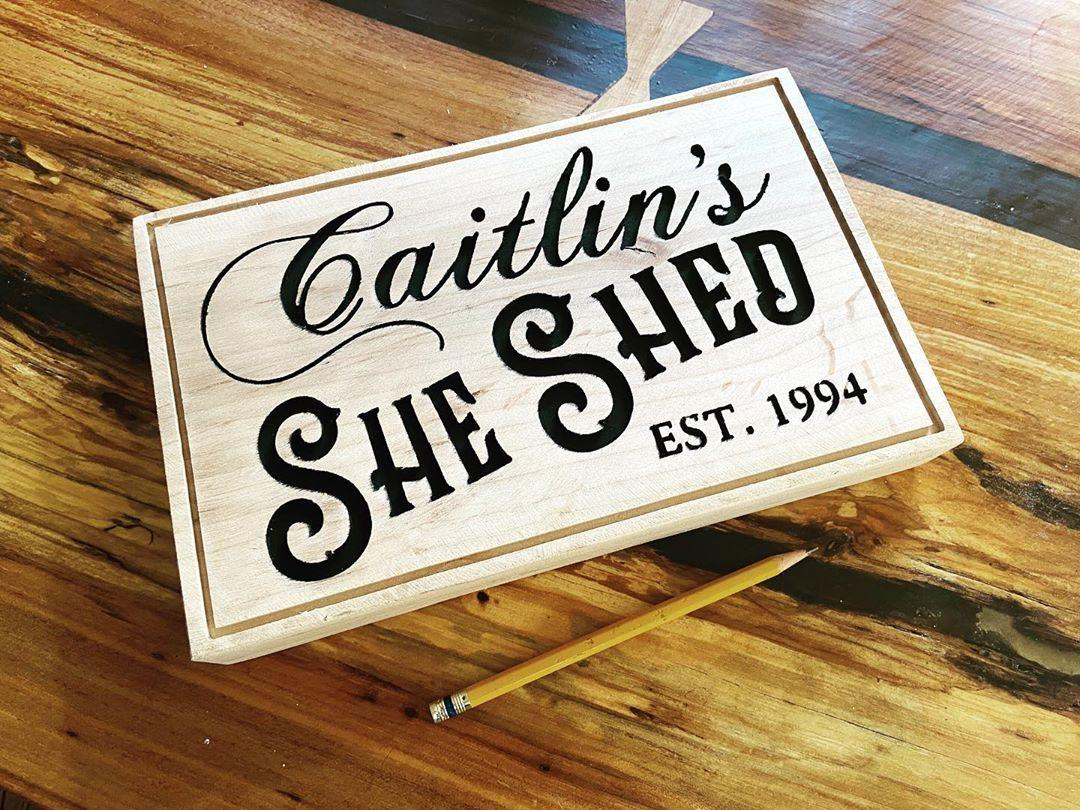 Got a lake house or cabin? Why not add a custom wooden sign to your property! Something that the two of you will see every time you pull up. Plus friends and family can find your cabin easier by simply looking for your post!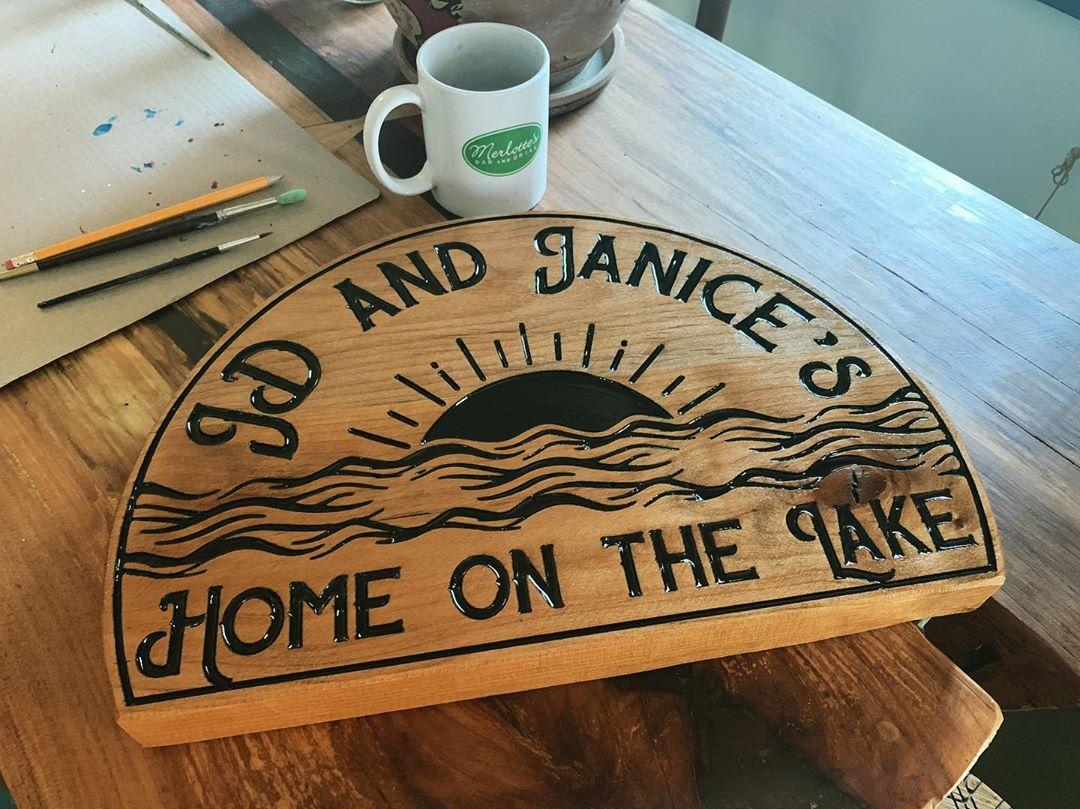 Love to Fish?
Got a secret fishing spot on your property that you love? Why not claim the spot with a custom wooden sign, letting all those who come to fish know just whose spot this is.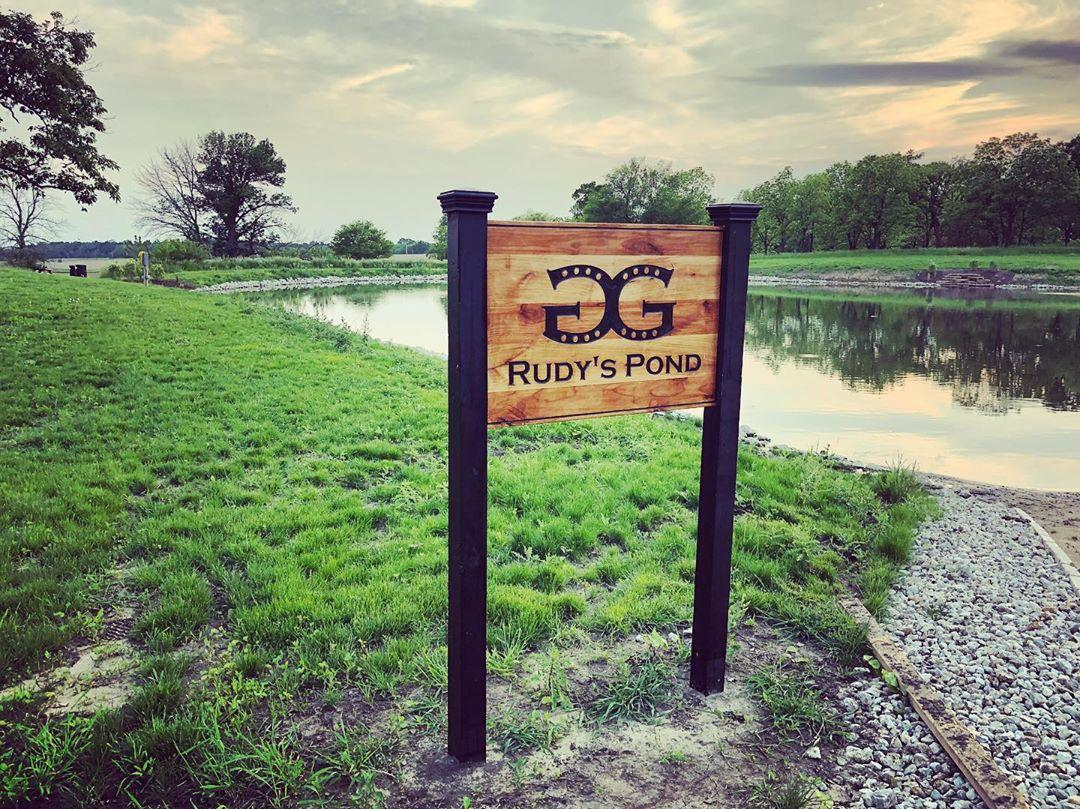 Why Not Keep It Classic?
You can never go wrong with a classic family name sign; something to hang in your living room or over your bed. You can see here a sign made displaying a newly married couple's last name and the date of their wedding.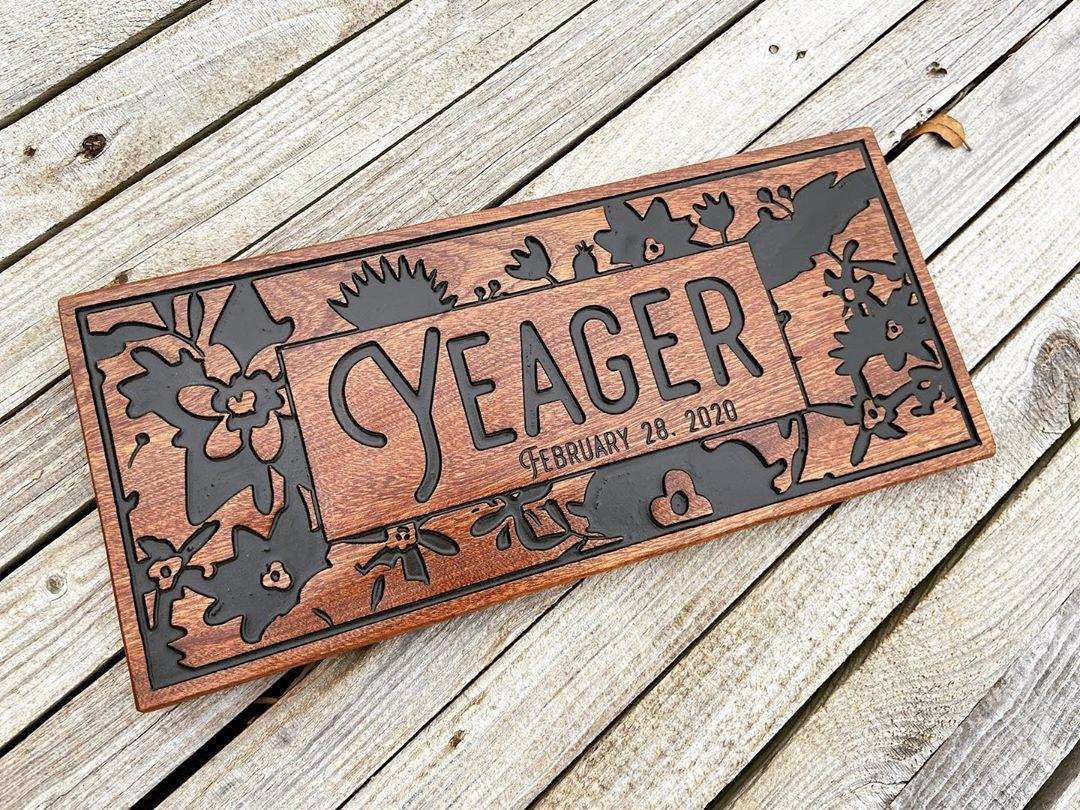 Get creative with your 5 year anniversary gift!
It doesn't have to be a sign, you can have anything you desire. Maybe a decorative custom oar to hang in the house or inside your boat!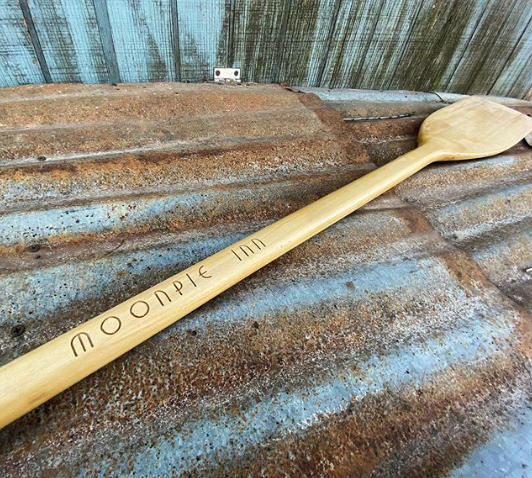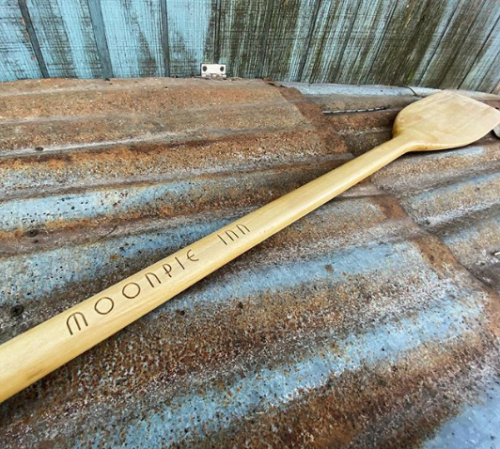 Does your partner love to cook? You can have the perfect custom cutting board made, which will surely heighten their experience in the kitchen!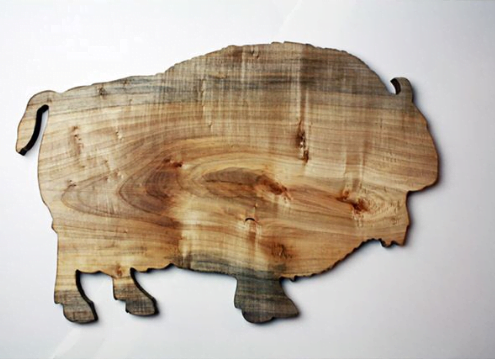 You can also have a custom cup coaster made. We can also add any detail you would like such as your wedding date or favorite saying.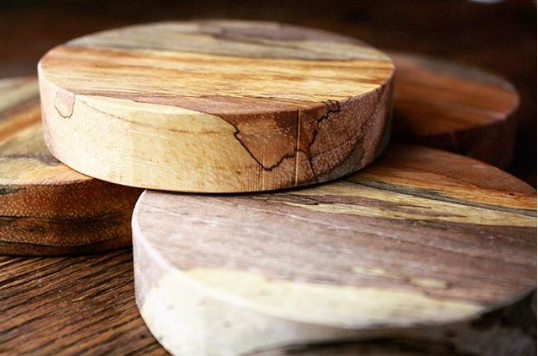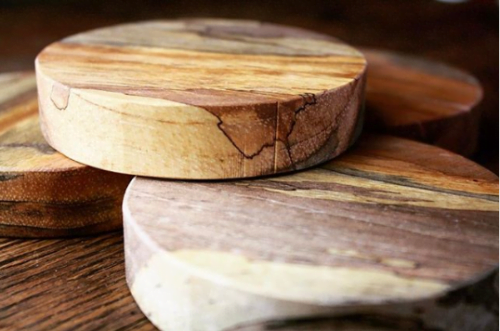 Do you have an outdoor fireplace? Why not create a custom wood sign and add an amazing focal point to tie it all in!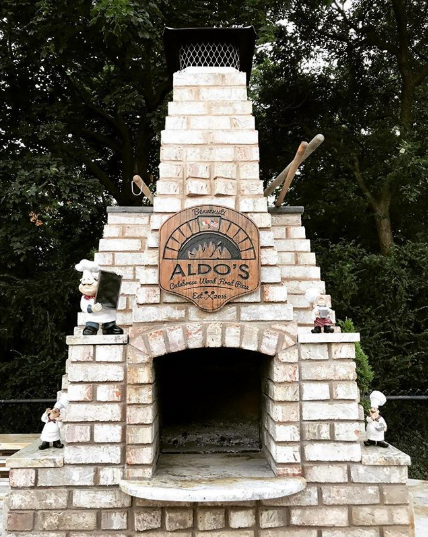 Do the two of you love to get competitive? Then why not get a gift the two of you can compete with? Whether it's Jenga or chess, you can create the perfect custom wooden piece the two of you can enjoy!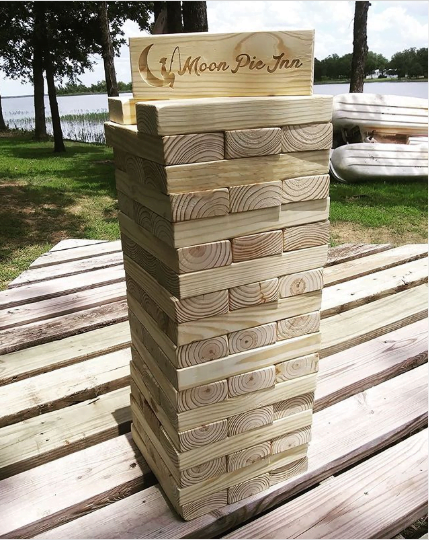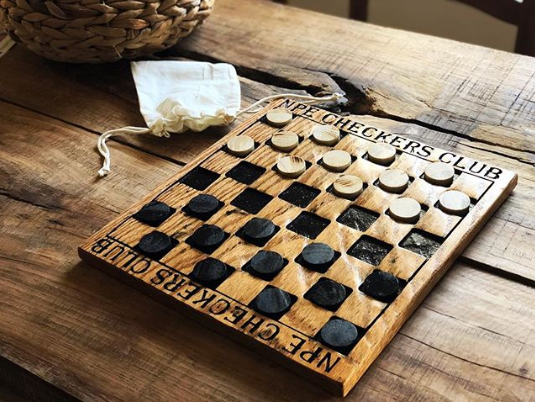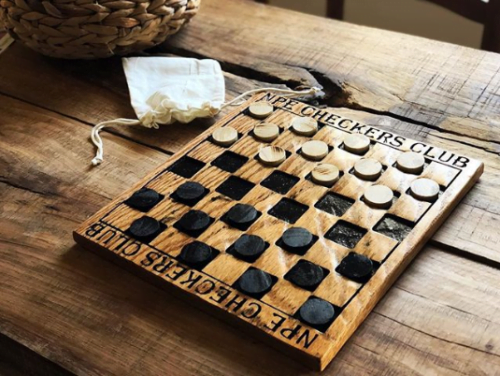 Why Choose Fat Bison for Your Custom Gift?
That need to find the perfect gift for someone you love is the reason that Fat Bison Workshop was made. You see, I needed to find a gift for my grandpa, someone who pretty much has everything he wants. On top of that, he's a minimalist, so I needed to find something that wouldn't take up space. I decided he needed a sign for his farm, but couldn't find anyone to make it. So I decided to do it. After the sign was made, everyone wanted one.
Get Your Custom 5 Year Anniversary Gift Now!
At the end of the day, you can never go wrong with a gift from your heart. Your significant other is going to know that your gift is from the heart and that you have put thought behind your piece. Our custom signs are the perfect 5 year anniversary gift! 
common sizes and prices
Here are some common sizes to give you an idea of pricing, but we can do any size or shape you need.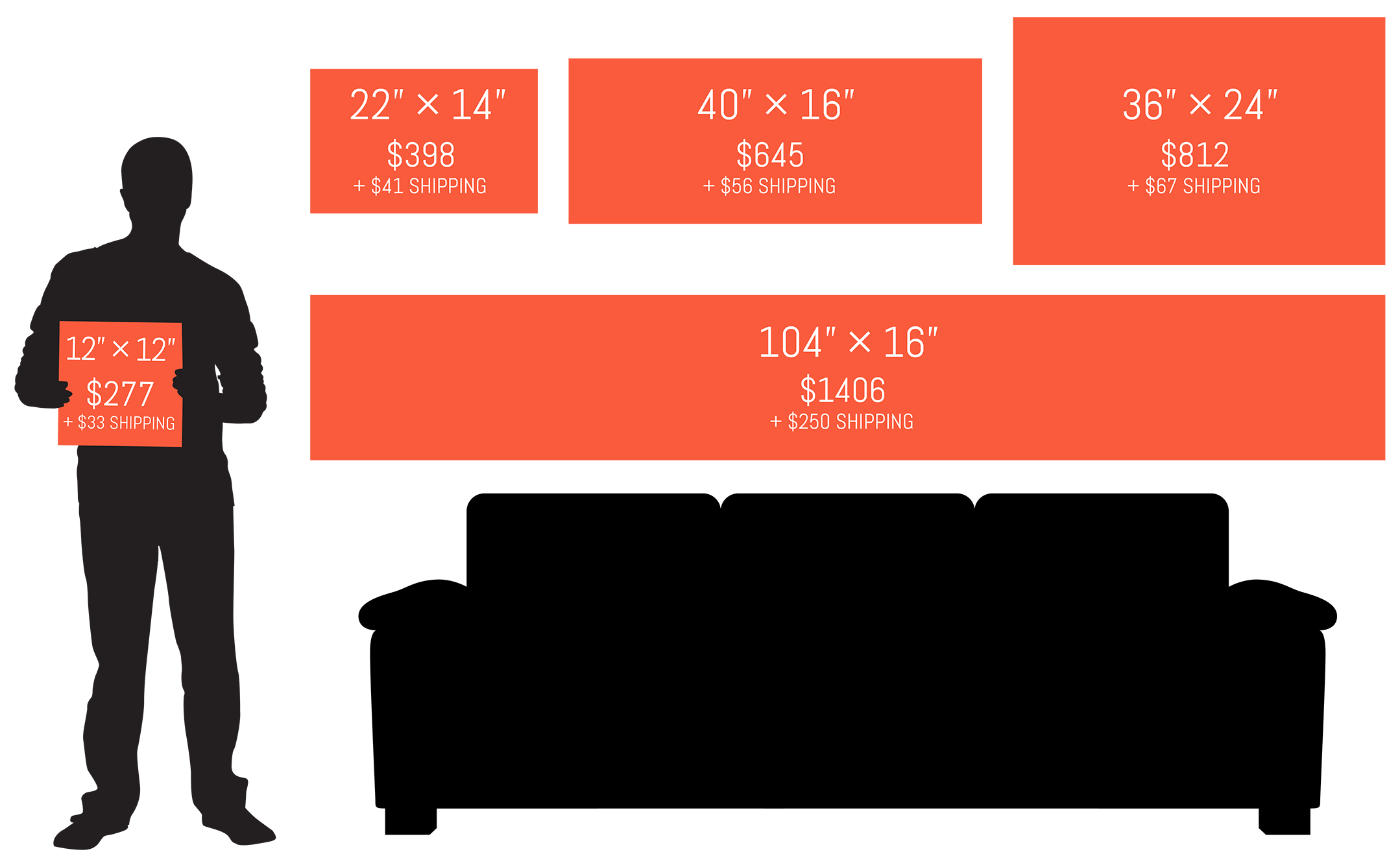 How to order a custom wood sign from Fat Bison Workshop